Mount Snowdon is the highest mountain in Wales and outside of Scotland! So of course, it is not surprising how popular it is! Found in North Wales the starting point is often from the small, adventurous town of Llanberis, but there are so many routes to the top! So when it comes to taking on the highest mountain in Wales, what is the best route to take when climbing Mount Snowdon?
We have now climbed a good handful, all are different, all have challenges and let me tell you now; unless you get the train up, there's no 'easy' way up Mount Snowdon. Standing at 1,085 meters it is a pretty impressive climb and one you will remember for the rest of your life. To find the best route up Mount Snowdon, keep reading. We have gone into depth about all the routes we have taken and given you some facts to help you decide. All routes are brilliant but when climbing Mount Snowdon, you need to find the best one for you!
The PYG Track
Length: 7 miles or 11km
Time: approx 6 hours return walk.
Difficulty: Easy – Moderate Track with some challenging sections.
Also known as the 'Pig Track' this trail up Snowdon is the most popular route on the mountain. For good reason! Starting from Pen-y-pass car park, you give yourself a head start as it is already 350 meters up. So only 735 meters to go, easy right? The PYG Track is popular for a reason, winding up the mountain you get stunning views of the rugged, surrounding mountains. As well as some breathtaking views that on clear days, will take your eyes to the ocean. Make sure you have your camera on hand, you'll be reaching for it a lot throughout this track.
The scenery is a beautiful distraction from the trail at times. While the trail itself is incredible well maintained there are some tough times, it is a mountain in the end! When you begin climbing Snowdon the trail is tough. With large stone steps leading you up the first stretch of the mountain. At times there may be a slight scramble up some natural rocks, but mainly you'll be on a clear track. It's so important to note, that although walked by over 500,000 visitors each year, it's not a walk in the park. You need to have good footwear and watch where you put your feet. Rolled ankles are never fun on the mountain.
As your walking remember to look up! As you climb higher you'll have great views into Llanberis, towards the lakes of Llyn Peris and Llyn Padarn! This view will be with you until you hit the Crib Goch saddle. Now you will wind around the other side and be opened up to another incredible valley. Just make sure you stay on the main trail. Crib Goch is not the route you want to take if you have decided on the PYG track.
From here your path will flatten slightly but continue to gradually take you upwards. Because the goal when climbing Mount Snowdon is the summit, right? This section of path is pretty easy, as you come round it does begin to cross more rocky sections. Here you just need to take your time and watch you feet. But don't forget to look at the views of Llyn Llydaw which is actually, a reservoir!
The last tough section inclines using switchbacks to get you to the saddle before the summit. It may not look too bad, but you'll notice a lot of people having rests. Here my best advice is to push through it and keep going. Once you get to the saddle there is only a 15 minute walk to the summit. Before you head up and over the summit, make sure to take another look behind you. These switchbacks have pushed you higher and the views are sensational. Once on the saddle you'll notice the train track and might even see the steam train that runs up and down the mountain. You'll walk alongside the train line until you reach the top. This part of the climb goes by faster than you think and before you know it, you've hit the summit of Mount Snowdon!
The Miner's Track
Length: 8 miles or 13kms
Time: 6 hours return walk
Difficulty: Easy – Moderate Track
Like the PYG Track, the Miner's Track starts from Pen-Y-Pass, 350 meters above sea level which like we said before, gives a good headstart! Climbing Mount Snowdon can be daunting, but taking the Miner's Track is a beautiful and historic trail to choose. For those who are beginner hikers, I would recommend this track.
Heading off from the car park you immediately join a wide and incredible well engineered path. Nice and flat you can choose your pace and enjoy a leisurely stroll or take on more of a marching pace. This train leads you around the mountain and down towards the beautiful blue lakes. Instead of gradually taking you up the mountain, you'll drop down and walk lakeside. From below you'll enjoy views of the towering peaks, experiencing just how mighty these peaks are. While also learning the history or the area!
Along the track there are abandoned mines and the huts in which the miner's would have stayed in. There are panels along the trail encouraging you to learn a bit more. The buildings are ruins, but they are still well intact and interesting to look at. Now walking around Llyn Llydaw reservoir you'll see the famous Snowdon Horseshoe peaks including: Y Lliwedd (898m), Snowdon (1,085m) Garnedd Ugain (1,065m) and Crib Goch (921m). As well as some epic waterfalls!
If your plan is to get to the summit, you'll get to the end of a nice flat path and the trail will begin to carry you upwards, pretty steeply. This trail is rocky and half way up will then join the PYG track. This is the only strenuous section on the trail and will last around 30 minutes until you join the PYG track. Now you'll follow people up onto the saddle of the mountain before you take on the last push toward the summit.
This path is not as busy as the PYG track, but it is definitely easier and less strenuous. Except for the final push to the top of course! On a sunny day this track is brilliant as you are right by the lake. You can take your lunch break by the lake, dip your toes in or if you're brave enough, take a dip in the glacial reservoir. This trail is also great if you have kids with you on the trail as well. Climbing Mount Snowdon doesn't have to be overly challenging, but it will definitely be beautiful on this trail!
The Llanberis Trail
Length: 9 miles or 14.5km
Time: 5.5 – 7hrs return walk.
Difficulty: Moderate
The adventurous town of Llanberis draws thousands of people in a year as it is the closest town to Mount Snowdon. From here you can take the train up the mountain or, of course, hike it. If you don't fancy taking the bus to Pen-Y-Pass or have a car then starting from Llanberis makes sense. The track starts off on a road and the moves on to wide, well maintained trail. But don't expect this to be an easy or gradual hike. The Llanberis trail climbing Mount Snowdon is a tough one!
There's no head start on this trail like there is at Pen-Y-Pass, you have the full 1,085 meters to go. Before you hit the trail from the road there are boards with information about the track. These are often good to read as any major warnings will be on here. But if you are hiking this in the summer seasons, you should be fine. A bit more care is needed on this track during winter conditions. As you climb the steep road keep an eye out for the large slate sight marking the turn off for the Llanberis path, otherwise you'll wander the wrong way!
Once on the trail and off the steep road, there is still a good climb in front of you. After 15 minutes on the rocky trail you'll start to hit a lot of good resting points. Did I mention this trail is steep? On clear days the path in front of you will open up and you'll begin to see the peak of Mount Snowdon. As you continue to climb, the valley of Cwn Brwynog is behind you, you'll notice abandoned farms and mills. The track will switch from a steep climb to a gradual, but constant incline. As you gradually make your way up the path, you'll reach the halfway house. This is often open as a cafe in the summer months and a great place to catch your breath. However, it will be busy during peak season so don't expect space to sit down.
The track continues to take you up the mountain gradually. After hitting the half way house the railway will begin to come into full view. The trail will often pass under the railway as you climb. The Llanberis trail is a great way when climbing Mount Snowdon if you are interested in the trains. You'll follow the railway line for the majority of the walk and very likely to see the infamous steam train in action!
The track doesn't always stay gradual. As you continue to climb Mount Snowdon the trail gets steeper again. Take great care on wet days as some parts are so steep they can be slippery. The final push on the Llanberis trail is a steep and strenuous section but it's best to push on up as best you can. Once you get over this hump you'll get to the saddle where the PYG track will join you. From here it's a gentle push to the top, compared to the climb you've just had!
We often climb Snowdon on another route and then come back down the Llanberis section. I'm not going to lie, the thought of climbing Mount Snowdon from Llanberis doesn't fill me with enthusiasm. It is a long and tough route up the mountain and one that is going to take more mental strength than hiking ability. There is no technical requirement but it is challenging. But of course on a clear day, the views at the top of Snowdon will be worth it!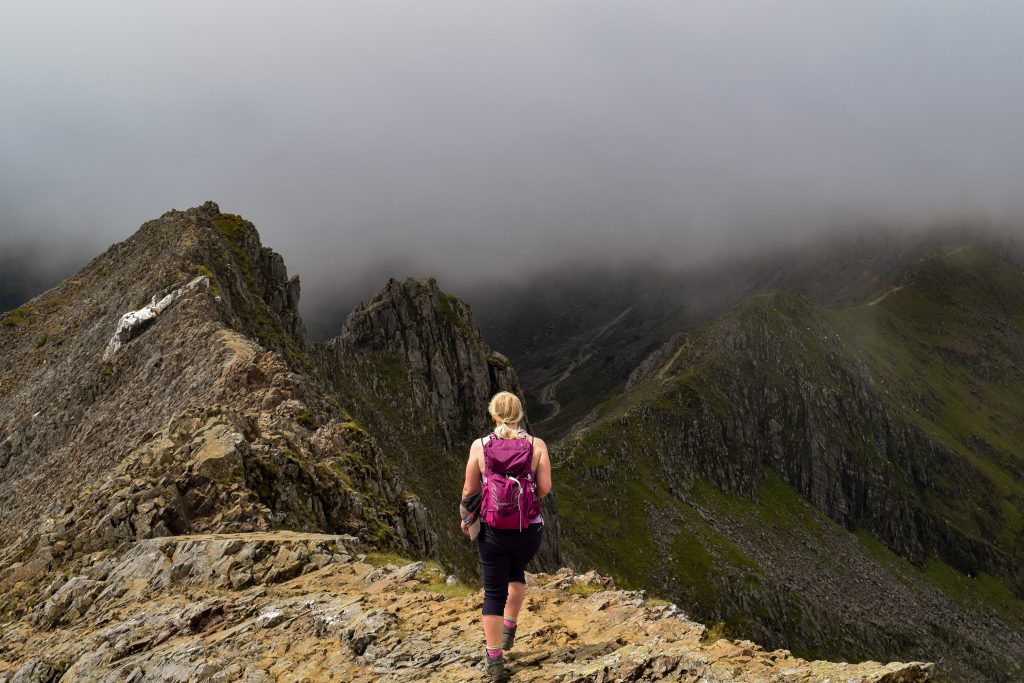 Crib Goch Scramble
Length: 3 miles or 4.94km (one way)
Time: 3.5 hours (one way)
Difficulty: Hard
For the more adventurous of us out there, this is an epic adventure but of course, not to be taken lightly! The rangers and all information online will give you warnings of this route and I will do the same. We are experienced mountain hikers, we both have a head for heights, we've been through mountain training and we know when to quit rather than push on in bad conditions. If you are worried about your experience or ability. Go with someone who is more experienced and can give you the confidence you need. (Or hit us up, we would be happy to do it again!).
Starting again from Pen-Y-Pass you'll follow the PYG track until you hit the saddle where the PYG track crosses over to the next valley. Above you now is Crib Goch and the trail leads off to the right and straight upwards. You'll follow a basic trail up the rocks until the trail disappears and now you are in a scrambling zone. There is no trail on rocks, you climb upwards until you can't climb anymore. It's important to have experience in scrambling so you know how to find the best route for you to the top.
Once at the top of the first vertical(ish) climb you experience the real knife edge ridge line as promised. The ridge itself may only be around 200 meters long, but I can promise you, even the most confident of us will get nervous. The drop offs on each side are major and your choice of crossing this is taking a confident stride on the arete or stepping off to the left and using the arete as a handrail. Either way does have a high risk factor and this will be the longest 200 meters of your life. Take your time, on a good day it is likely to busy and there will be a mix of experiences on the mountain. Be kind, respectful and patient you will all get across in the end. There is no point risking anyone's or your own safety when trying to overtake on knife edges.
Once you've got past this knife ridge you will come round and see the Crib Goch Pinnacles. There are so many options here and often trails can be seen. Some people will choose to climb these towers but if you don't feel comfortable, there are options to walk around. We of course climbed the Pinnacles, they are epic and offer some incredible (but nerve racking) views.
Climbing the Pinnacles was our highlight, from here you'll reach Crib y Ddysgl and it is much easier in comparison. Enjoy easy scrambles up this last rocky peak and stroll across it's ridge line, which you'll now consider wide when compared to what you've just done! From here you'll begin to see the other paths join together to meet for the summit push.
Although on sunny days the Crib Goch climb up Mount Snowdon may be busy, it is not busy in comparison to other routes and you might want to turn around and stay on the ridge. But you have to push on! The Crib Goch path will come off the final ridge of Crib y Ddysgl and join the Llanberis path. You'll notice the increase in foot traffic and people carry coffee cups (which always strikes me as weird) as you begin to approach the summit.
Summiting Mount Snowdon is a celebration, especially coming from the Crib Goch route. From here it is up to you how you come down. The options are many with all the routes. People who usually climb Crib Goch will continue on to complete the Snowdon Horseshoe to complete their walk which will take you back to Pen-Y-Pass. It is up to you to decide on the best way down for you.
Y Lilwedd Scramble
Length: 4.2 miles or 6.78km (one way)
Time: 3.5hrs (one way)
Difficulty: Moderate – Hard
A good alternative to Crib Goch if your head for heights is a little wobbly and your scrambling experience is minimal. This route to climb Mount Snowdon is often used as a descent route for the Snowdon Horseshoe, after ascending Crib Goch. Although it is used as an alternative to Crib Goch it does still come with it's own challenges and in bad weather or lack of viability can be dangerous.
To get onto this route you'll start by hiking along the Miner's track. Enjoy the views and the easy trail for the first we while as you drop down toward the Llyn Llydaw reservoir. Once you are here you will notice a causeway across the reservoir taking you away from the main trail. This is the way to go. Crossing the river your path will go from wide to small as you begin to start the climb up toward the towering ridges. These ridges from below look a lot more daunting than Crib Goch but unless you are planning to climb to the tip of them, you can put those nerves aside.
The path up the mountain as you climb Mount Snowdon the route will turn more into a trail which at times is rocky and muddy. The ascend is quick in places and gradual with others. Up here on the mountain you will be at times alone as this is not a popular route of climbing Mount Snowdon. In fact, you will probably only bump into people on their way down. As you climb onto the peaks you'll have some easy scrambling but nothing that will require too much technical skill. Once on the top of the ridges enjoy the views. These grassy and rocky tops offer a lot more room than Crib Goch and the view back down the valley and across to Crib Goch and beyond are breathtaking on clear days.
From the summit of Y Lilwedd you descend back down to join the Watkins track. This can be steep and you need to watch your step as there is not a clear trail down the mountain. Continue to follow the Watkins track until you meet the Rhy Ddu track and begin the steep incline to Mount Snowdon's summit. This section is tough going and you need some good mental strength to keep pushing yourself up. On wet days it is slipping and dry days the ground can be crumbly. Take care but keep pushing on.
Once at the summit you'll have earned yourself a rest and hopefully a view. Climbing Mount Snowdon is never easy! From the summit it is up to you to decide on your route back down. If you go on to complete the Snowdon Horseshoe you would continue down Crib Goch if you ascended this way.
This route to climb Mount Snowdon is less technical than Crib Goch and not as exposed however it does present it's own challenges. Be sure to have confidence in your navigation skills and be equipped with the right equipment.
So, What is the Best Route Climbing Mount Snowdon?
I haven't covered all the routes up Mount Snowdon here, I know. But these are the most popular and common. They are also the only routes we have experienced so far. As we climb more, I will update this guide to give you more of an insight into the many ways up the mighty Mount Snowdon.
The best route up Mount Snowdon really depends on your ability, what you're looking to achieve and the kind of walk you would enjoy. For me, I love the adventure but I'm willing to give everything a go. With the descriptions and facts offered I hope you can make the choice for yourself. And remember, there are many routes, so the one you went up doesn't have to be the one you come down!
Let us know what route you have climbed Mount Snowdon. We want to know what you thought of it and if there are any points you would raise about them?
For anyone visiting North Wales and wants a guide to climb Mount Snowdon, feel free to drop us a message. If we are free we will be happy to join you up the mountain!