Finding paradise on the tiny islands of Gili off the coast of Bali. These islands are not just a great place for partying and relaxing. But they are great for scuba diving! After I got my PADI Open Water Certificate in New Zealand, I was ready to take on the advanced course. The Gili's were the perfect place to do it! Soon I became hooked and my 4 day stay turned into a 9 day stay! Scuba Diving in the Gili Islands is a must do for everyone! Even if it's just to try it. That crystal clear water and beautiful marine life will have you hooked in a second!
Who Did I Dive With?
Scuba Diving in the Gili Islands is popular. There are loads of dive centers where I was on Gili T and most hotels and hostels had a relationship with one. So it is really easy to get in the water, but to make sure it's a great one, I did my research! Taking some advice from my Dad, who used to be a dive instructor, I landed on Blue Marlin Diving.
The guys were great! The instructors were a mix of local and international, all incredibly well certified, with loads of experience. Not only that, they were super encouraging and great at explaining all the ins and outs of what I was learning. Everyone from reception to the bar staff were brilliant and I couldn't encourage people more to dive with them.
Blue Marlin Diving have sites on all Gili Islands as well as Komodo and Lombok. Wow, I was so close to booking an amazing live aboard in the Komodo, it's beautiful! These guys really do show you the best sites when you're under water. Not only that, they are so involved in the environment protection, clean ups and educating the people that dive with them.
What's Involved in the Advanced Scuba Course?
The Open Water course is an introduction into Scuba Diving. So on this course you learn the basics, get to grips with the gear and just being underwater. The limit of depth is about 18 meters, which sounds a lot, but once you're under the water it's not at all! You also have to take a buddy with you at all times. When you go on to do the Advanced Scuba course you get to go to the depths of up to 30 meters and wow, it opens up another world!
By doing the advanced open water course it opens up around 80% more dive sites worldwide. Which is a massive freedom, almost like learning to drive a car or I guess even better, a plane.
That's not to say that the advanced course is a breeze. I'll be honest, the Open Water course is made for everyone and it is relatively straightforward to move past. The Advance Open Water course is to make you understand more about diving and where you can go with it. While also building your confidence to get out there and explore further!
When doing the Advanced Scuba Course on the Gili Islands, you have two mandatory dives, Deep Diving and Underwater Navigation. These are important, to get you used to the pressure when you get deeper and so you understand how to plan and navigate a dive. You'll not follow a guide and instead use a compass, dive watch, visual landmarks and time.
As well as these two dives you will also have the choice of what other dives you do when on your course. These are usually chosen from interest so you'll have things like photography, marine life knowledge, night dive, wreck dive etc. This is the fun part! Getting to learn about anything you're interested in!
Getting Roped in to the Rescue Diver Course.
Scuba Diving in the Gili islands is amazing! I loved it so much, that I stayed for even more. Not just diving though, qualifications, of course! The next stage in the PADI dive map is the Rescue Diver Course. When you decide to go diving in the Gili Islands and take on a Rescue Diver course here's what you learn: How to prevent and manage problems in the water. You'll become way more confident in your diving skills. And you'll know how to help someone and your buddy if they fall into any problems.
Why did I decide to go for it? Well I'm not an advanced open water diver, diving down to 30 meters means that if something goes wrong, you can't just shoot to the surface. There's a lot that go wrong with doing that, i.e. the bends! But also now certified it means that my buddy will feel safe in my hands as much as I feel safe in theirs.
Knowing what to do when things go wrong, is a seriously great skill to have! And important when it comes to Scuba Diving!
I will warn you guys though, it is probably the most stressful and full on course I've ever been on. It is not relaxed at all. But it is so much fun!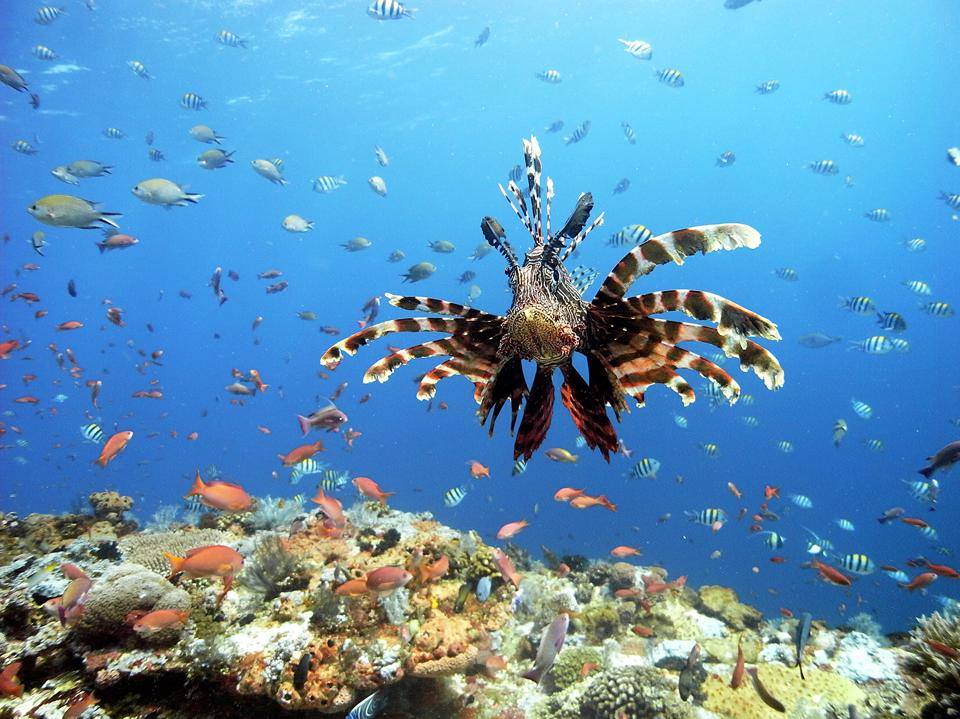 What to Expect from Scuba Diving in the Gili Islands?
I don't even know where to start. The Gili Islands for Scuba Diving is just a beautiful place. The plant life and animals down here are so colorful, interesting and playful. For those who love being under the water, this is a big attraction, the plant and marine life down here. From trigger fish, jelly fish and the cute clown fish to the bigger marine life such as turtles and sharks, the Gili's are a haven.
Also, it's warm! Scuba Diving in warm water is just amazing, wearing only a wet suit at 30 meters is just bliss. Once you've dived in warm water, you'll never want to go back to cold water and I haven't!
Expect amazing scuba diving guides and a community of like minded and chilled out people. I've never met a community like it and I guess island life attract us. But the support and good laughs with everyone almost made me stay there forever.
If you ever get the chance to go Scuba Diving in the Gili Islands, you should do it! It is the best experience underwater you will ever have!
---
If you're planning to Scuba Dive in the Gili Islands or visit and have questions. Send them our way, I'll be happy to answer any questions and get you under the water!