Moel Siabod, more commonly know as simply "Siabod" (Sh-a-bod) is one of our favourite walks in Snowdonia. Its easy to access, doesn't have hoards of tourists, and provides stunning views at the top. What more could you ask for? We've not done a sunrise walk in a while. And so when the weather cleared after weeks of cloud and rain we decided to set off to see what we could see up Siabod. As a result, we were gifted some of the most stunning views we have ever seen!
Waking up
The alarm went off at 5:15. I'll be honest, my heart wasn't in it. I wanted to roll over and go back to sleep. Janey was pretty keen though. Thankfully she managed to convince me to get out of bed and get dressed. We drove round to the car park just round from Plas Y Brenin, making sure the heaters was on full blast to get the van warm for Kali. She was still too small to do her first mountain and so Kali stayed in the van. We got our gear together and started to make the assent to Siabod's peak.
The Climb up Siabod
The path we are normally use, as we did this time, is via Plas y Brennin. All you have to do is cross the bridge at the bottom of Plas Y Brenin and then just follow the path up the north face in pretty much a straight line to the top of the mountain. There are a few areas where the path disappears and the ground turns boggy. So if your not skilled with a compass and map, we definitely recommend doing this route in the day light the first time round. But apart from this its pretty simple. In the map below, we took the route in red up and down.
It was rather cold when we headed up. The clear sky had sucked the heat out. The added benefit of the is was that the boggy areas were mostly frozen over and we managed to keep our boots fairly dry as we climbed. The climb up was pretty uneventful. But the views got better and better as the clock ticked on. Climbing up the north face meant that we had a panoramic of the Carneddau, Glyderau, and Snowdon Massif mountain ranges.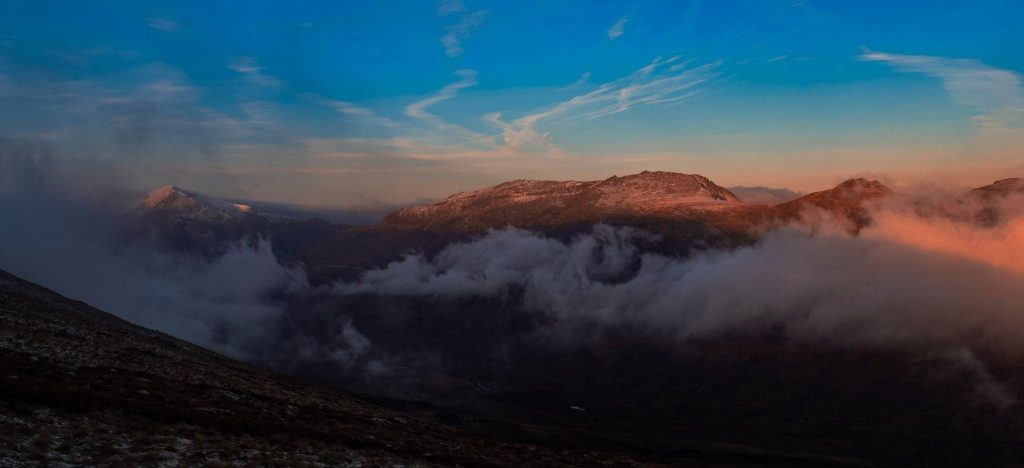 As we started to climb everything was pitch black apart from the stars in the sky. As we climbed the sky grew slowly brighter. Shapes started appearing as if sketched into the sky. Slowly getting clearer and clearer. The sky was changing colour too. From a black to dark blue. Then the purples and oranges started to follow. We had estimated our climb time as to summit just when the Sun rose over the horizon and we nailed it! Perfect timing.
Summitting Siabod
We knew that we had a special sunrise when we got to Siabod's saddle. This was the first time that we would get a chance to look east and see the Sun. On the side of the mountain we had been climbing it was really clear. There were no low hanging clouds and only a few at height. We couldn't have asked for more perfect climbing weather. But when we got to look over the saddle we were met with a sea of cloud rolling over and crashing amongst each other like waves in a white ocean. The sky was a brilliant orange tinged with deep blues.
Video of the rolling clouds
As we climbed the views just kept getting better and better. As we climbed the clouds started to clear and we could see the valley below drift in and out of focus beneath the clouds. At one point I looked up and suddenly saw something move. I focused in on it and pointed it out to Janey. A Fox! It was walking up an ice sheet and so was clear as anything. I've never seen a fox that height in the wild before. Let alone on a cold winters morning. Unfortunately it was too far away for our cameras to have a good shot of it.
We summited just as the Sun rose. And what a sunrise! The pictures speak for themselves! Moel Siabod is one of the more unusual mountains in Snowdonia because it is a 'lonely mountain. Its not part of any other range, unlike the vast majority of other mountains in the area. Siabod is also long and thin. This makes the views from the top pretty unique. Looking north, you are far enough away from the other ranges to get a stunning panoramic view while still looking down into the valley below. Looking south, the land drops away from you down Siabod's cliff face and stretches out as far as the eye can see over rolling hills.
A Special Surprise
On the way back down from the summit something very special happened. A broken spectre! This effect is produced when a person stands above the upper surface of a cloud with Sun behind them. When they view their shadow, the light is reflected back in such a way that a spooky circular 'glory' appears around the point directly opposite the Sun. They are quite rare as the weather has to be just right. Neither Janey or I have ever seen this before, although we have heard of it. We were both super stoked to finally see one!
Breakfast
Siabod is probably best known for the Moel Siabod Cafe. An awesome cafe based at the bottom of Siabod's eastern side. We headed back to the van first to drop off our bags and pickup Kali. A quick 15 min stroll through the woods then soon had us emerging next to the cafe and a well deserved breakfast! Hands down one of the best around!
This was hands down the best sunrise hike I have ever done. I'm so thankful to Janey for getting me out of bed that cold February morning. It was a morning full of firsts. First mountain fox, first broken spectre, first sunrise hike of the year. I doubt I will see anything so magical ever again. Both Janey and I are so thankful that we got to experience it.